Delicious gourmet meals while camping may sound like a pipedream. What about easy cleanup? And better yet, prepared in a microwave? Believe it or not, there are countless delicious meals you can prepare in a convection microwave.
So what's the difference between a convection microwave and a regular microwave? The easy answer is this: convection microwaves emit the heat waves necessary to thoroughly cook, brown, and even bake your food instead of simply just heating it up.
Here's a great recipe you can use in your convection microwave while camping in your new or used RV!
Pineapple Pork Roast
In a bowl, whisk together:
1 cup pineapple preserves
¼ cup prepared mustard
1 Tbs soy sauce
1 Tbs prepared horseradish
For the roast, you'll need:
3-4 lb pork roast
1 can pineapple rings (optional)
Place the roast on broiling trivet and top with pineapple rings, if using. Roast 14-16 minutes per pound on High Mix setting or until internal temperature hits 165°F.
Note: this will be 42-52 minutes, so double check the weight of your meat and plan your cooking time accordingly.
Cover roast with pineapple sauce during the last 20 minutes of cooking. Cover and let stand 10 minutes before serving. Slice and serve with rice.
This is just one of the countless convection microwave recipes you can find. A quick internet search will yield dozens of easy convection microwave recipes and that will go a long way in making your meals while camping faster and easier than ever. Plus, convection microwaves help make your clean up so easy because you're not dirtying every dish you own or using every burner on the stove!
KZ Durango Gold Fifth Wheel
Convection microwaves in an RV may not be standard issue, but you'll find one in our luxury 2020 KZ Durango Gold fifth wheel for sale. Take a look at the luxury kitchen in the KZ Durango Gold fifth wheel: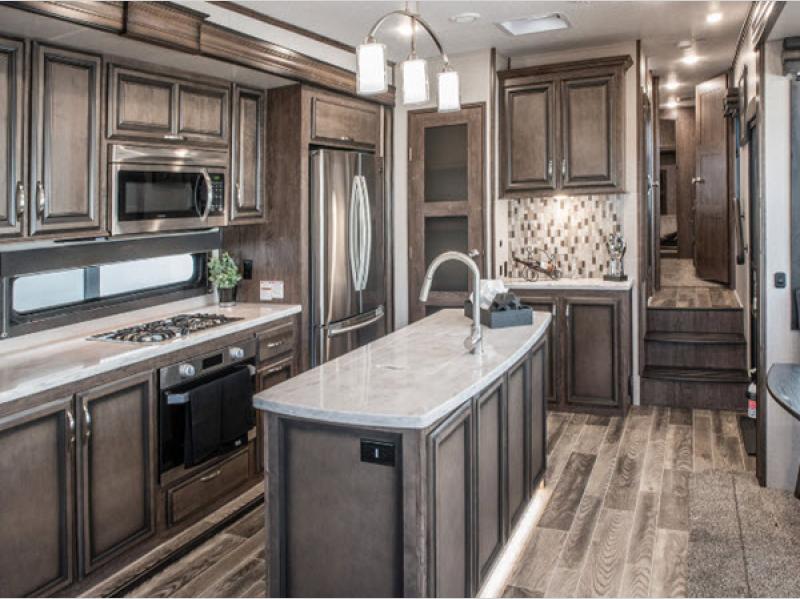 Additionally, you'll find these features in the kitchen of our KZ Durango Gold fifth wheel:
Residential-Size Pullout Trashcan in Kitchen
18 Cubic Foot Refrigerator
Dishwasher
Removable Silverware Tray
Storage Shelf under Kitchen Sink
Hidden Cabinet Door Hinges
5″ Cabinet Hardware
XL Toggle Light Switches
All LED Ceiling & Cabinet Lights w/Multiple On/Off Switches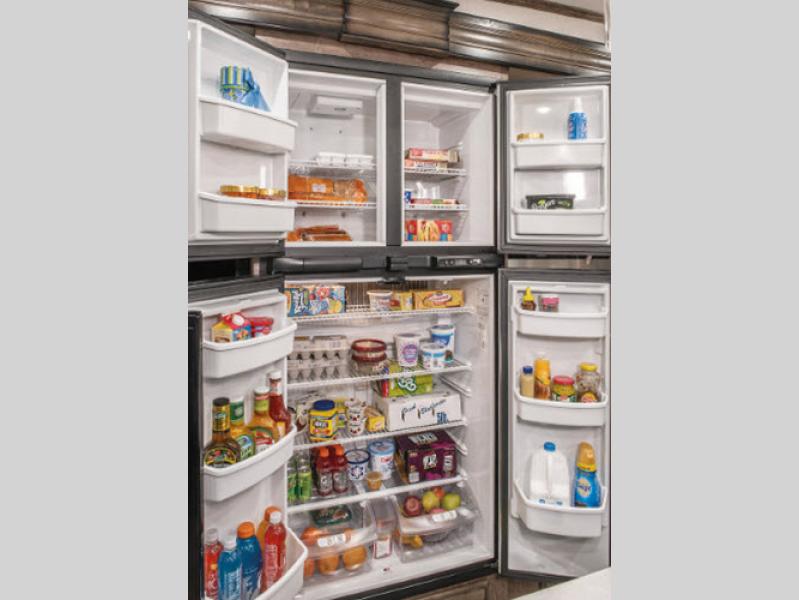 There are so many features in the luxury kitchen you'll want to see them in all in person, and some features vary according to floor plan, so contact us today to take a look at the KZ Durango Gold fifth wheels for sale in our inventory. The KZ Durango Gold fifth wheel is a luxury RV in every respect, so it's the perfect RV if you want to live and camp comfortably – and make your meals delicious and memorable. Call us today!