When you spend a lot of time traveling, the thing that you might miss the most is a home cooked meal.  When you are RV'ing, the possibility of a home cooked meal is a reality if you do your homework and shop for an RV with a great kitchen.  The question is, what should you look for if you want you meals to turn out and taste like they do at home?   The other decision you need to make is how you want your kitchen laid out.  What is most comfortable for you to cook and your family to spend time eating those meals together?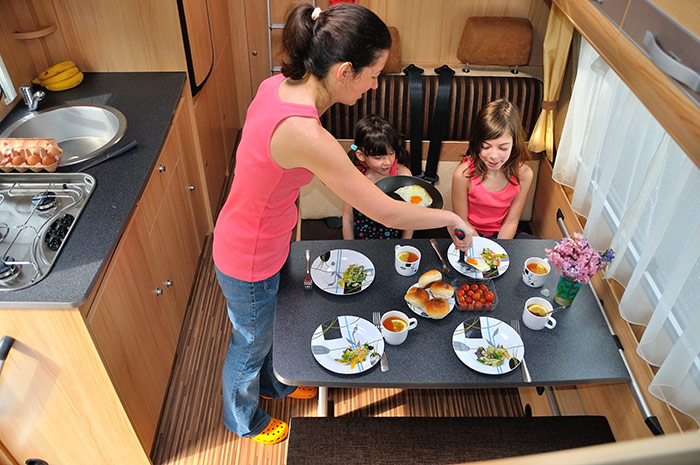 Kitchen Choice #1: Choose The Right Power
One of the most important items to consider when shopping for an RV is the electrical system.  An article in Back To Basics:The A, B, Cs of the RV Lifestyle entitled RV Kitchens: Some Like It Hot, author Ronnie Garrett explains what to look for.  Garrett interviewed Evada Cooper, an experienced RV'er who loves to cook.  Cooper explains, "There are two power cores—30 amps and 50 amps, but those power cores need to be broken down into watts to understand the true amount of power available. On a 30-amp unit, there are 3,600 watts available for use, but on a 50-amp, there are 12,000 watts available." Considering that your refrigerator, air conditioner, lights and other small appliances (coffee, anyone?) run off the same power, choosing a camper with more amps is going to save you a lot of cooking time and a lot of blown fuses.
Kitchen Choice #2: Kitchen Types and Layouts
Now that you are informed about the technical components to your kitchen, you need to choose a layout or floor plan. There are quite a few to choose from in the RVs for sale.  Here are some typical RV kitchens for you to explore:
Kitchens With Islands – If prep space is a consideration for you, an RV with a kitchen island might be just what you are looking for.  Not only do most RV kitchen islands provide extra counter space, they also provide extra storage and many times a sink.  RV kitchens with an island are also a great choice if you enjoy company while cooking as it provides some extra "hanging out" space that other RV kitchens wouldn't have the space for.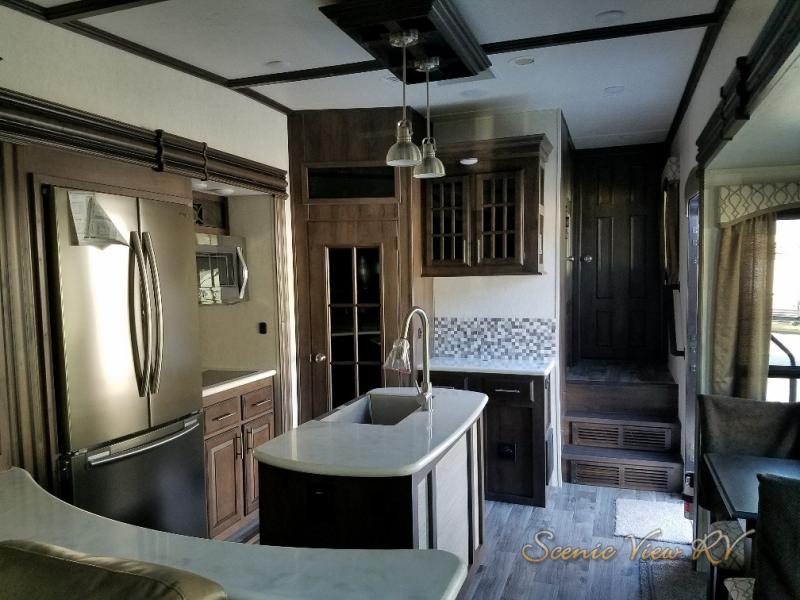 Outdoor Kitchens – If you just can't stand the though of being cooped up inside while you cook, a great option for you might be an RV with an outdoor kitchen.  Outdoor kitchens provide you with the necessities such as a small fridge, sink and one or two burners.  Some outdoor kitchens even have a small amount of cabinet space!  Outdoor kitchens are also a great way to keep an eye on the grill or campfire while you put together the rest of your camping feast.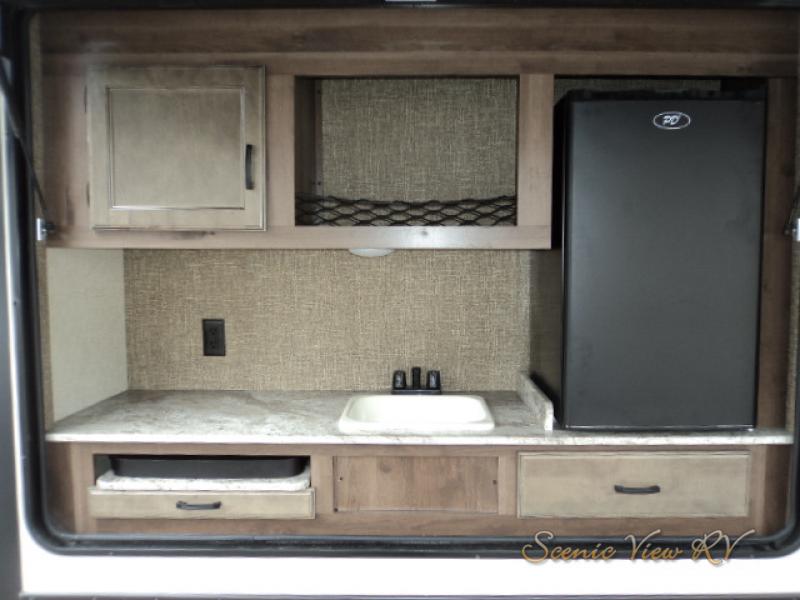 Rear Kitchens – If you don't want to walk right into your kitchen when you enter your RV, an RV with a rear kitchen might be the right choice for you.  With your kitchen tucked in the rear of the RV, you can walk right into your living space and relax.  No need to go through the kitchen unless you need to grab a snack before you sit down!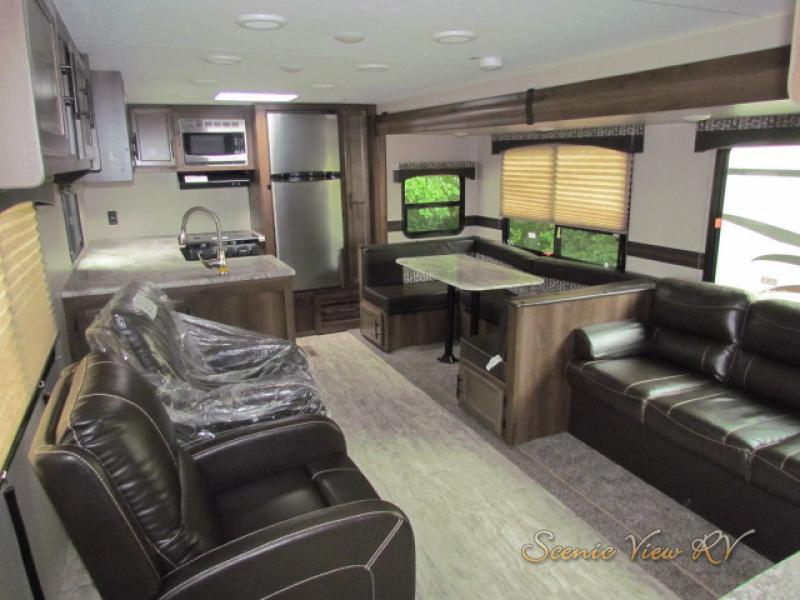 Kitchen With U-Shaped Dinette – If you have a family that not only enjoys sharing a meal together, but also enjoys the occasional family game night or a mean hand of cards, this might be the kitchen style for you.  The u-shaped dinette kitchen not only gives you more seating space, it's also another comfortable space to spend time together.  A couple of bonus features?  Most have storage under the seats AND can be turned into another sleeping area.  Talk about packing a punch!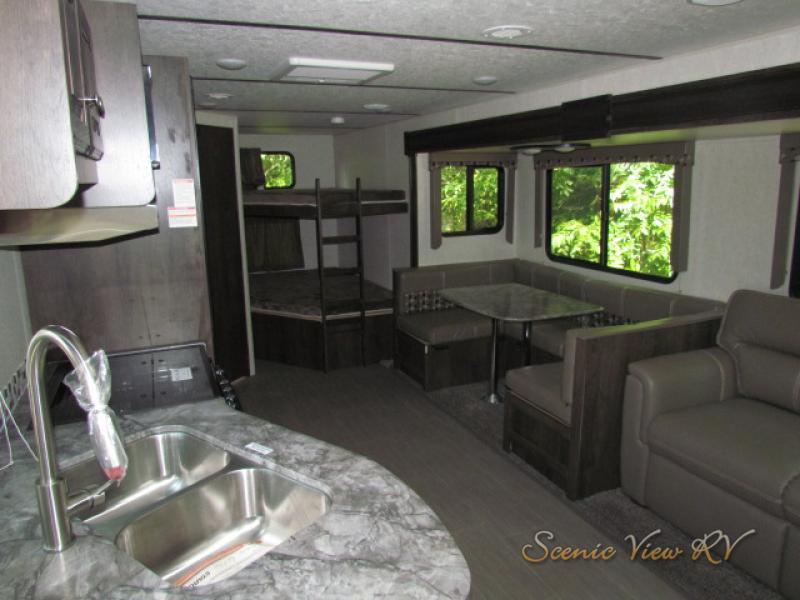 No matter what type of RV kitchen you decide on, you can be sure that you will find exactly what you need at Scenic View RV dealer.  Our friendly and knowledgeable staff is here to show you each kind of kitchen and help you make an informed decision based on your needs and wants.  Contact us today or come on over.  We are here to get you cookin' in a new RV!